It is the year when we can get back to those wedding plans that we left in 2019/2020. However, you might have changed where you wanted your special moment to be during that period. That is understandable because it seems like it's been years since you proposed. Additionally, you might have got some inspiration when traveling in those years.
There are hundreds of wedding venues out there to choose from worldwide. Furthermore, some are far more expensive than others, so you need to do your research. You might find a wonderful destination that is slightly better than another and offers more perks.
Most Popular Wedding Destinations Around the World
A wedding is going to be expensive so prepare yourself. The cost from start to finish will break the bank. It all depends on how many people you want at your wedding at the end of the day. Anyways, if you want a little inspiration for your wedding, here are some of the best venues worldwide.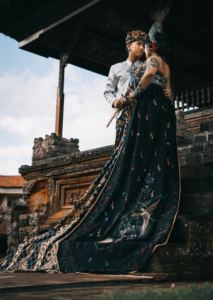 Chapel House Estate in Kent, United Kingdom
It was recently opened as a wedding venue, the chapel house estate used to be a family home. It has now been redesigned to be a beautiful and luxurious wedding venue that can hold up to 120 guests. This stunning wedding venue has 25 acres of land with the property as well.
You have several options with the wedding ceremony at the chapel house estate. One of the options is that you can have it underneath a wild apple orchard in the courtyard. Another thing to mention, they offer a place to stay for three couples with their three bedrooms. They also have other places to stay on the estate, gardens, and woodland.
Nomad in London, United Kingdom
This Covent Garden is also new, opening at the back end of 2021. There are several luxury places in and around this historic building. Furthermore, there are several rooms inside this wonderful building inspired by an interior design studio from New York.
The open roof entrance to the hall and the stunning ballroom are unique experiences. Furthermore, it has a bar where you can enjoy a few drinks and private dining rooms. This amazing old magistrates court is a grade two building that makes it the perfect wedding venue in London.
The Old Deanery in North Yorkshire, United Kingdom
This wonderful mansion has recently been revamped to become a more modernized wedding venue. Although the building isn't new, it makes a fantastic wedding venue for those romantic couples. Additionally, there are 10 beautiful bedrooms for your guests to stay in for those that live afar. It is a venue only for weddings and other events, so it is kept in great condition.
It makes a great venue for couples forced to cancel their previous wedding due to covid restrictions. There are hundreds of wedding venues that have ridiculously long waiting lists. This venue could be a quick turnaround once it reopens this spring. Another wedding venue offers wonderful wedding packages that include private hire for your wedding, red carpets, and welcome drinks once guests arrive.
Callow Hall in Derbyshire in The United Kingdom
This deluxe and lavish wedding venue is based in a Victorian country house in the peak district. It has some wonderful treehouses around the forest for the newly married couple. Furthermore, this stunning wedding venue offers several rooms for your guests, and drink receptions hold up to 80 guests.
This venue includes 28 beautiful suits that have outdoor baths and cute glamping rooms. It is a luxurious wedding venue that makes you appreciate the wonderful and stunning forest surrounding you. Furthermore, guests can also enjoy the afternoon and a sauna or steam room. If there is any wedding venue that makes you appreciate the countryside, it would be this one.
Countries That Offer Great Destinations For a Wedding
Now travel restrictions have been lifted in many countries around the world, and a wedding abroad is something else you could consider. These wedding venues will be expensive because you have got to take in hospitality and the costs of flights. If you can get a package that offers a place for people to stay, you are doing well.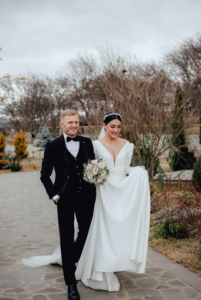 Luckily enough for you, there are thousands of wedding destinations worldwide. Furthermore, there are some stunning countries that you can visit as well. Here are some of the most stunning wedding venues worldwide that you can visit and experience a once-in-a-lifetime wedding.
Relais Villa Vittoria, Lake Como Italy
Italy is one of the best places that you can visit in Europe. Additionally, it has plenty of wedding venues available across the country, making it very romantic. The Relais Villa Vittoria in Lake Como is one of those gorgeous venues. It has a wonderful historical vibe to it.
Relais Villa Vittoria isn't the largest venue on the list but can be the perfect venue for those small families. Furthermore, this wonderful historical venue holds around 60 people, with the option that it can accommodate 24 of those guests. This wedding venue is the perfect venue for those vintage emerald rings.
Mahayana Tulum, Tulum Mexico
Over to North America, and is a great all-inclusive holiday destination. That is one of the reasons why it makes Mexico a great country to have your wedding. Mahayana Tulum is an expensive but once-in-a-lifetime wedding venue. For those who live in other parts of the world, the flights to this venue will be very expensive. The flights alone can be half the cost of a wedding venue in your local area.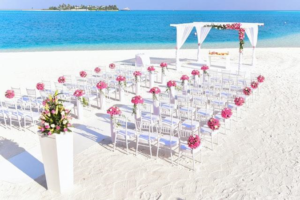 One thing that you can guarantee with this stunning venue is that the memory will last a lifetime. The reception alone holds up to 60 people, and the wedding ceremony can hold up to 100. However, the venue can sleep up to 25 people, so you will need to find hotels for the rest of your guests. There is no doubt that this is one of the most expensive wedding venues on the list. Nonetheless, this stunning beach wedding venue will please everybody.
Malibu Rocky Oaks, Malibu California
Further up North America, Malibu Rocks. It is arguably one of the best backdrops that you can have for a wedding. Furthermore, it is for those weddings that will have a lot of guests. Not only can you invite your whole family but you can also include your friends. There is no doubt this will be one of the best days of your life at this venue.
Located in the Santa Monica Mountains, this is well and truly an experience like no other. Although the venue will be expensive, it provides you with everything, including meals for up to 180 people. All hard work is done for you at this stunning wedding venue, which means you can relax until your special day.
To Conclude
There are many places that you can go to around the world. At the end of the day, it all depends on the budget for your wedding. It also depends on how many people you would like to attend the wedding.
Your wedding is going to be a very special day so you might as well go all out on it. If you would like as many people there as possible, we would suggest that you keep it near your home. That way, people won't have to worry about travel costs and expensive hotels.