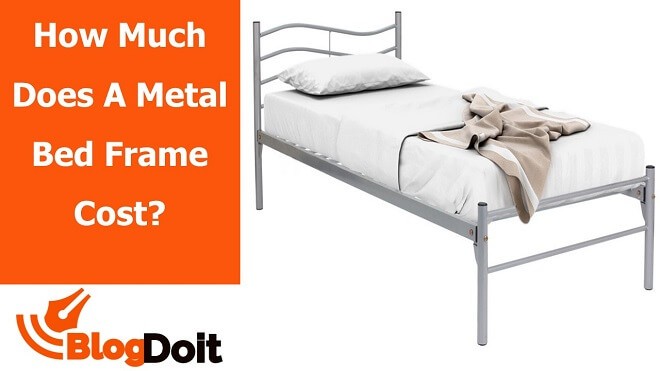 How Much Does a Metal Bed Frame Cost? Bed frames are the basic needs of people. They are the essential parts of your bedroom. People choose bed frames to meet up their needs and give their bedroom a unique and stylish look.
But all the issues are dependent upon the budget. Metal bed frames allow you to fulfill your needs and wishes within a very friendly budget.
Don't you believe it? Read the following sections of this article, and you will learn how much a metal bed frame cost usually.
Metal Bed Frame
Metal bed frames are beds made from different metals, mostly iron, aluminum, and so on. Metal beds are very much comfortable to use.
They are stable and durable compared to a wooden bed frame. But metal bed frames are a bit difficult to hold on a mattress than the wooden bed frame.
Despite this, people nowadays choose metal bed frames more than wooden bed frames for decorating their bedrooms.
Metal frames are stylish and trendy. You can use it to enhance the beauty of your bedroom as well as your house.
How Much Does A Metal Bed Frame Cost?
The most important benefit a metal bed frame offers to you is that you can buy a metal bed frame easily with your low or medium budget.
Generally, people tend to buy their necessary furniture depending upon their needs and their ability to buy them.
In purchasing or making a bed frame for your bedroom, you have to pay a lot more money for a wooden bed frame rather than a metal bed frame.
You can buy the best metal bed frame among lots of designs and sizes that best suit your budget and taste.
The average cost of a bed frame usually is $217. It varies depending upon the size and metals of the frame in which it is made.
Metal bed frames are very much budget-friendly. You can buy a metal bed for just $100.
Sometimes, smaller metal beds you can purchase at less than $100. If you need a larger bed and of the best metal, you might need to pay $200 or more than that.
But on average, you can fill out your needs and demands of having a stylish metal bed just by paying $100 or a bit more than $100. Isn't it too lucrative?
What Are the Advantages of a Metal Bed Frame?
Not only budget-friendly, but metal bed frames also serve many other benefits to their users than any other bed frames, especially the wooden ones. If we talk about the advantages of a metal bed frame, it would be like the following—
Metal bed frames need a minimal hassle of maintenance. There is no fear of being your metal bed frame damaged by insects or any pests.
Their durability is higher than other bed frames.
Metal frames are stylish and trendy. You can have a very classical and elegant look in your bedroom by purchasing a metal bed frame for its decoration.
You can mold your bed frames as you want. It is one of the most beneficial features of a metal bed frame.
Metals such as irons are very much challenging and solid. They can hold any heavyweight easily.
For children, metal bed frames are the best choice because you can use different colors and designs on them as you want. And children always like to have colorful things.
What Are the Disadvantages of a Metal Bed Frame?
Besides the advantages, the metal bed frame contains some disadvantages as well. They are like—
Metals are strong enough. But the strength that needs within a bed frame is entirely dependent upon its welding system. If you have any mistakes or lack in welding your bed frame, you might not use it for a long time.
When you are using a metal bed frame in your bedroom, you have to be very careful about the temperature of your bedroom. It is because metals get affected by the temperature highly.
You can enjoy elegance with a metal frame, but a wooden bed frame is much more elegant than a metal.
Lastly, metals are very much sturdy. If you have a case of shifting your house or shifting the bed from one room to another, it might seem a bit difficult.
Final Words: How Much Does a Metal Bed Frame Cost
So, now you might have learned at least something about a metal bed frame. You already have an idea of how much a metal bed frame costs on average.
The advantages and disadvantages are also at your hand. Now the decision is yours whether you want to buy a metal bed frame for your bedroom or not. Hopefully, the information provided will help you to make the right choice.